Buying A Storybook Labradoodle Puppy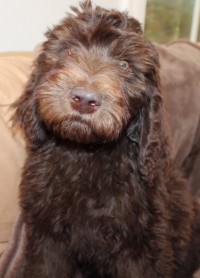 Juliet
When you purchase a Storybook Labradoodle you are getting a puppy that is raised inside a loving, family home in New Boston, New Hampshire. We are an accredited member of the  Australian Labradoodle Association of America (ALAA).  We adhere to a strict code of ethics and breed standard with the ALAA and strive to do everything with the highest integrity. We put a lot of time and money into caring for our dogs and puppies and we have done extensive health testing to ensure that we are breeding beautiful, healthy puppies. 
See list of included items below to help you get started with your puppy.


Your puppy comes with:
Microchip identification 
Current vaccinations and de-worming
Pre-registration to the ALAA (Australian Labradoodle Association of America)
3 Generation Pedigree
2 year genetic health warranty
When you purchase a Storybook Labradoodle, you have supported a breeder with the highest of owner ethics.  We stand for the breeder ethics of the Australian Labradoodle Association of America.
Please remember we are raising puppies in our home.  We have a family and home to run, as do you.  We will respond to your emails and calls in a timely manner.  We schedule appointments for puppy visitation when the puppies are ready to be viewed, which is about 6 weeks of age. In order to protect the health of the puppies, we do not allow drop in or unscheduled appointments.  Only families on the reservation list will be offered appointments.  The puppies cannot be viewed or visited prior to 6 weeks of age.  Visitation compromises the health and wellbeing of all of the puppies.  Thank you for your understanding and we know how both exciting and hard it is to wait for your new puppy!
All puppies must be picked up on the scheduled pick-up date, which will be after 8 weeks of age.  If you are unable to pick-up your puppy on the scheduled date, a charge of $50 per day will be charged to cover cost of proper care and feeding of your new puppy.  If this is required, prior arrangements must be made to ensure scheduling.
How to Reserve a Storybook Labradoodle
Once we receive your deposit your place will be held on the reservation list.  Please note that we reserve the right to retain any puppies that we think have potential to become breeding dogs for Storybook Labradoodles.
Puppy visitation will be scheduled when puppies are 6 weeks old.  At that time remaining balance will need to be paid in full.  If puppy is not paid for in full, deposit will be forfeited and the puppy will be available to the next family on our wait list.  
We accept cash or cashier's checks, no personal checks.